© 2012 Land And Water Resources, Inc. All rights reserved. Website by RME.







A national leader since 1994 in creating, building and managing wetland mitigation banks.




Kilbuck Creek
Kilbuck Creek Wetland Mitigation Bank
66.4 acres restored, 57.15 mitigation credits
Wetland Banker: Land and Water Resources, Inc. (LAWR)
Original Land Owner: Gensler Gardens
Current Land Owner: Winnebago Landfill Company 8403 Lindenwood Road
Rockford, IL 61109
(815)874-4806
Attn: John Lichty
USACOE Permit CEMVR-RD 342590
Status: Fully Built, Met Final Performance for
AMCE & All Credits Released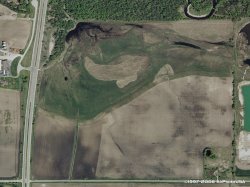 LAWR teamed up with Gensler Gardens, Applied Ecological Services and Huddleston McBride Drainage Company to develop a 64+ acre wetland mitigation bank in Winnebago County, Illinois. This site is the first private wetland bank in the Rock Island District of the US Army Corps of Engineers. LAWR was responsible for all aspects of the bank from conception, permitting, development, financing, construction and operation. Gensler Gardens provided the land. Applied Ecological Services provided planting, maintenance and monitoring services and Huddleston McBride Drainage provided drainage and tile removal services.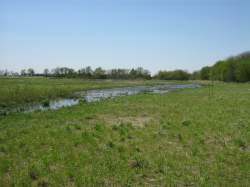 The site, prior to permitting was a farm field located primarily within the floodplain of Kilbuck Creek, a tributary to the Rock River. The field was extensively tiled and several small farmed wetland pockets existed on the site. The site was partially graded, tiles removed, and tiles which drained to the site from offsite were reconstructed to discharge through French drains located parallel to the slope.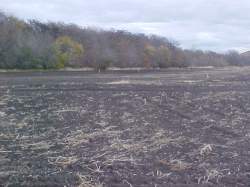 LAWR was able to create and sell 62.84 acres of wetland mitigation credit to offset wetland impact. Management activities at the site included aggressive herbiciding of invasive species, mowing and burning. Four years into the project, the site had become over dominated by red top, a cover crop which had been approved during bank permitting, but did not allow the diversity the agencies were looking for. Extensive herbicide and mowing activities reduced the amount of redtop on the site Over 151 plant species have been identified at the site. Of these 70% are native species. The site possesses sufficient conservatism and richness to be of profound importance from a regional prospective as defined by Swink and Wilhelm (1994).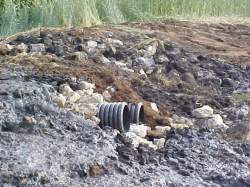 This bank is currently in operation by LAWR